Library Music
Home »

Library Music
My prolific output of library music ranges from 'straight' orchestral to solo instruments and small-group jazz, covering every facet of dramatic mood.
My earliest library pieces, recorded from 1962 onwards, were used regularly in Pathé and Movietone newsreels, for which I composed heroic marches and industrial music. The Severn Bridge was built, Sir Francis Chichester was knighted on Plymouth Hoe and Prince Charles greeted the cheering crowds after his investiture as Prince of Wales at Cærnarvon Castle to my music.
Some suites, such as 'History Book of Music' and 'Music of the Victorian and Edwardian Era,' (De Wolfe,) 'Television Tensions' and 'Palm Court Selection,' (Studio G,) have been in constant use ever since they were first issued in the 1960s.
My library music can be found on the following labels: Sync Music, De Wolfe, Studio G, Chappells, Boosey Media, JW Media (Weinberger, Inter-Art & BMP), Bruton/Southern Music, Bosworth, Mozart Edition, Chandos Music and Paxton/Atmosphere Music.
TV SERIES' USING PAUL LEWIS LIBRARY MUSIC
SpongeBob SquarePants
Britain's Lost Masterpieces
Dr. Pimple Popper
Love it or List it Too (Canada/USA)
Ancient Aliens
Antiques Roadshow
Flog It
Bargain Hunt
Top Gear
Celebrity Bargain Hunt
Victoria Wood
Penelope Keith and the Fast Lady
Hairy Bikers
What the Victorians Did for Us
Ben Fogle's Escape in Time
A Place in the Sun
Come Dine with Me
Trinny and Susannah Undress
My Super Sweet 16
Dr. Who
World War I in Colour
Century of Warfare
Churchill's Bodyguard
Great Romances of the 20th Century
Canada en Amour
Minder
Les Plus Belles Routes du Monde
Count Duckula
Dangermouse
Monty Python's Flying Circus
The Benny Hill Show
Alexi Sayle's Stuff
The Russ Abbott Show
The Kenny Everett Show
The Dave Allen Show
The Two Ronnies
Q (Spike Milligan)
The Sullivans
Crossroads
The Onedin Line
etc.etc.......
CINEMA FILMS WITH PL LIBRARY MUSIC
Monty Python's The Meaning of Life (Mr. Creosote's throw-up theme)
And Now For Something Completely Different (Man with a Tape Recorder up his Nose)
Time Bandits (ship's orchestra playing as 'Titanic' sinks)
Jabberwocky (monster theme)
Murder by Decree
The Howling II
etc.....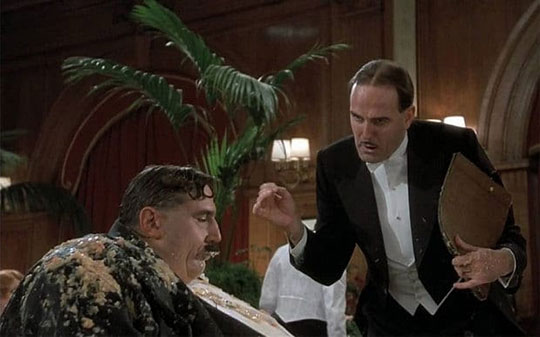 "Just one more wafer-thin mint?"
TV COMMERCIALS
Many have been scored with my library music and I have been commissioned to compose special music for others, amongst them: Kit-e-Kat in Holland in the 1970s, twenty years of Whiskas Catfood in Germany in the 80s and 90s, and in the UK: Jiff Lemon ("Don't forget the pancakes on Jiff Lemon Day!") from 1985 to 98, Sarson's Vinegar and Harp Lager in the 70s, St. Bruno Tobacco, Aero Mint Choclate, Quality Street Chocolates, Shell Mileage Test and Dreft Washing Powder in the 60s. Etc. etc. ......